Skip to Content
Learn About Appletree Dental for Kids
Here at Appletree, we strive to make a connection with your children to instill lasting trust in a fun environment. We know how scary it can be for a child's first dentist visit, so we've set out to dispel any bad connotations. Our office caters to children in an interactive and friendly environment where your kids will learn that the dentist can be their friend and not somebody to fear. We offer a full range of procedures to keep your family healthy. Contact our office today to schedule your child's next dentist appointment. If it's your child's first dentist visit, let us know! We love meeting new patients and setting them up for a lifetime of success.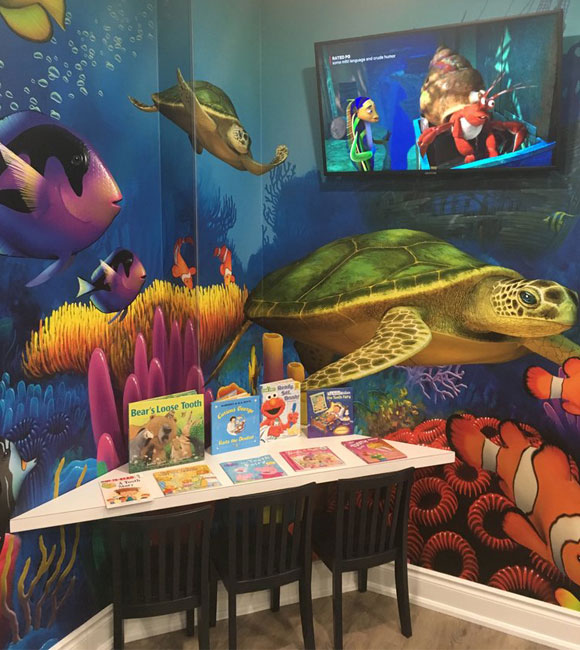 Plenty of Entertainment in Our Office
To make everything more comfortable and entertaining for your family, our office is full of games, including books, activities, and even iPads and an Xbox One. Additionally, all of our treatment rooms have their own TVs to entertain your children while we clean and examine their teeth. Plus, with our school-friendly appointment times, your child doesn't have to miss any school or make up classes. These appointment times book quicker than others, so call us today to schedule your child's appointment!
Building a Foundation of Trust and Professionalism
While other dentists may conduct the same style of procedure for every patient they see, our team caters to our patients. We take pride in listening to patients' concerns and feelings and adapt our visits to better serve them. As a parent, we're sure you'll have plenty of questions regarding your child's oral health. Ask away! We're always happy to answer your questions and help you and your child grow up with a strong and confident smile. We're also the only pediatric dentist in Newmarket, North York, Stoney Creek, and Don Mills, ON to bill and collect directly from your insurance provider. You won't need to put off your child's dental needs and health for financial concerns. Contact us today to learn more and schedule your child's appointment.
Have One of Our Pediatric Dentists Take Care of Your Child Today. No Referral Necessary.